Live the adventure of Ferra Botanica, an electric-assisted railbike in a sensitive natural area!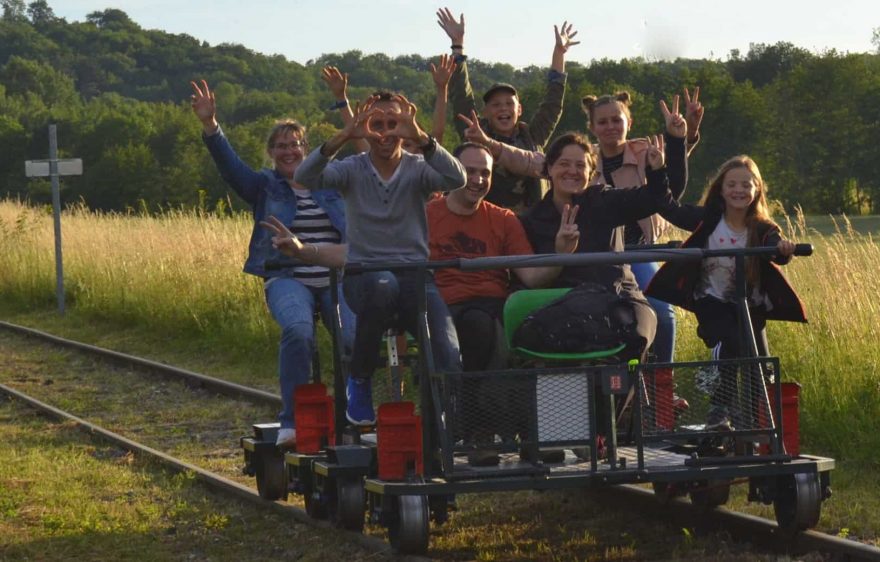 About
Ferra Botanica is a match made in Heaven. Bike + Train, Humans + Nature. Add them up and you get an unforgettable experience!
Hire bikerails in the commune of La Ferté-Gaucher for a jaunt with your family through the Land of Brie!
Pedal at your own pace with a little help from an electric motor. Enjoy this outdoor activity in the heart of Val du Haut Morin's sensitive natural area.
Dotted along the 6.5-km-long (13 km round trip) are creative, captivating art installations based on plant or animal themes.
Art lovers will appreciate the enchanting interlude provided by this aesthetic scenery!
Midway along the course, you can partake in nature workshops provided for free by our educational team. Learn about preserving the environment, the design principles of permaculture, how to be eco-friendly, recycling, biodiversity and much more.
To ride a railbike, you'll need a minimum of 2 people and a maximum of 5 (including children). If you have more than 5 people, you'll have to hire a second railbike. 2 passengers will be in charge of pedalling, but if your group is larger group, feel free to swap spots on the road (maybe 'rail' is more like it) to share pedalling duties.
The more, the merrier.
Make it a group experience to enhance the fun!
• Different package options are available by reservation only (24 hours in advance):
– "A Taste of the Countryside": perfect for families invited to share a snack!
– "A Local Libation": have a cocktail or snack to savour a relaxing moment with music!
• Ferra Botanica by Night: don't miss out on these unforgettable experiences with different themes: Saturday 11 July and Saturday 15 August 2020 (under reserve).
• You can park your car at any of our 3 car parks:
– 1 car park right next to La Ferté Gaucher's information office.
– 1 car park at the railbike departure station at Lescherolles (spots are limited).
– 1 car park at Aérosphalte for electric bike departures.

• Services available: refreshment stand, waiting and picnic areas, water fountains and WC.
Schedules & Prices
Schedules:
• Du 28 mars au 1er novembre 2020 : rotations (= départs) à 11h, 14h et 17h (selon ouverture), avec option goûter champêtre ou apéro terroir.
• Nocturnes thématiques le 11 juillet et le 15 août 2020 (sous réserve).
Tarifs :
• Pour 1 vélorail de 2 à 5 pers. (enfant compris) : en semaine 38 € – week-ends, jours fériés et ponts, et vacances scolaires de la zone C 45 €.
• Offre famille pour 2 vélorails, 10 pers. maxi (enfant compris) : à partir de 64,90 €.
• Nocturnes : vélorail, animation et repas compris : pour 5 pers. : 28 € par pers. -pour 4 pers. : 30,25 € par pers. – pour 3 pers. : 34 € par pers.
•  Goûter champêtre : à partir de 7 € par pers. + location de vélorail.
•  Apéro terroir : à partir de 9 € par pers. + location de vélorail.
• Tarif groupe pour 21 pers. et + : nous consulter.
• Possibilité d'organiser vos soirées privées : nous consulter.
Contacts
Rdv à l'Office de Tourisme, 35 rue des Promenades, 77320 La Ferté-Gaucher.
Vous pouvez joindre l'équipe Ferra Botanica de 9h à 12h et de 13h à 17h : tous les jours du 28 mars au 1er novembre – du mardi au samedi le reste de l'année : 01 64 04 06 68.