Exhibitions, a teaching garden, workshops and cultural events make the Museum of Seine-et-Marne, as lively as it is fun…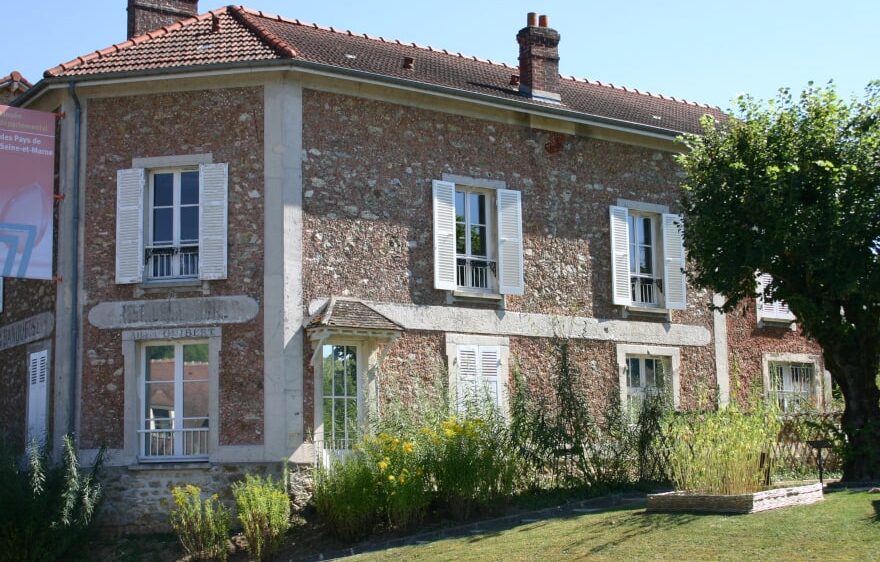 About
The Museum of Seine-et-Marne displays tools and everyday objects from the first half of the 20th century, and has a unique and very complete collection on the life and work of Pierre Mac Orlan, a writer who lived and died in Saint-Cyr-sur-Morin.
Thematic exhibitions, educational workshops, concerts, shows and many other activities for the whole family are organised regularly.
Do notmiss the exceptional exhibition dedicated to the writer Pierre Mac Orlan – Voyage en couleurs, Mac Orlan et les peintres – from 13 September to 20 December 2020!
A partnership with the Musée de la Grande Guerre à Meaux:
The Musée de la Grande Guerre du Pays de Meaux will present the temporary exhibition "Requiem pour les Barthélemy" from 17 October 2020 to 3 January 2021.
You will see Henri Landier's paintings and drawings created from the war memories of Pierre Mac Orlan, a painter also represented in the exhibition Voyage en couleurs, Mac Orlan et les peintres.
For this occasion we suggest you keep your ticket, which will allow you to benefit from a reduced rate to visit the Musée de la Grande Guerre and its exhibition at the price of 7 € instead of 10 €.
Likewise, if you come with tickets to the Musée de la Grande Guerre, you will benefit from the reduced price of 3 € instead of 5 € at the Musée de la Seine-et-Marne.
To know the complete program, do not miss to consult the agenda!
Do you know the writer Pierre Mac Orlan (1882-1970)?
His real name was Pierre Dumarchey. The artist had many lives!
Before taking up the pen, he tried his hand at the brush and pencil in Montmartre, although with much less success. He is, however, recognised as the pioneer of comics thanks to his drawings published in various local newspapers.
Pierre Mac Orlan was a poet, journalist, publisher, radio presenter and writer of songs and even adverts for a car brand. He also travelled a great deal.
He left many mystery and adventure novels, such as Marguerite of the Night, La Bandera or Anchor of Mercy. His famous work Port of Shadows (Quai des Brumes) was incarnated in the cult classic film featuring Jean Gabin and Michèle Morgan.
Mac Orlan received many official distinctions. In 1950, he was elected to the Académie Goncourt. In 1966, he was awarded the insignia of Commander of the Legion of Honour by then-Prime Minister Georges Pompidou on the proposal of Minister of Culture André Malraux, whose work was influenced by Mac Orlan.
Although somewhat overlooked now, this unique personality was friend to many well-known icons whom he received, such as Georges Brassens!
He bequeathed his property to the commune and commissioned a group of twelve people — chaired by the mayor, the executor of his will — to ensure the republication of his works and to award an annual literary prize bearing his name to a writer or an artist, preferably an older one, in a difficult situation.
Sources: 
https://www.jesuismort.com/tombe/pierre-mac-orlan#general
http://www.macorlan.fr
Schedules & Prices
Schedules:
• Reopening after work, on Monday 7 September 2020 at 10 a.m.
• Monday, Tuesday, Thursday, Friday and Sunday from 10 a.m. to 12.30 p.m. and from 2 p.m. to 5.30 p.m. (up to 6 p.m. in July and August)
• Wednesday from 10 a.m. to 12.30 p.m.
• Weekly closure: Wednesday afternoon and Saturday all day.
• Annual closure: 1 May, and from 24 December to 1 January.
Prices:
•Full price 5 €.
• Reduced price (for 18-25 years old and seniors over 65 years old) 3 € .
• Reduced price from 17 October 2020 to 3 January 2021, on presentation of your ticket from the Musée de la Grande Guerre in Meaux 3 €.
• Free for under 18 years old, students under 26 years old,  teachers, RSA beneficiaries, jobseekers, the war disabled and persons accompanying them, disabled visitors and persons accompanying them, heritage conservators, conference speakers RMN, tourism professionals, Musée de France personnel, ICOM and ICOMOS members, journalists holding a press card, AGCCPF members, Friend of the Louvre and students of L'école du Louvre, members writers' houses, Friends of Pierre Mac Orlan, Bourdelle and Mallarmé, donors and benefactors of the museum, Ballad'Pass card.
Length: about 1h.
Last admission 1h before the closure of the museum.
Free visit.
Price in addition to the entrance varies according to guided tours, activities and educational workshops.

Buy your tickets online
Select your date and visit the museum and its exhibition at reduced price: 3 € for 18 of age and older:
Contacts